ESG is driven by purpose not just profit. The ESG Foundation helps those around the world who are less fortunate.
ESG Foundation Partners
---
The ESG Foundation financially supports projects or individuals to create educational opportunities to develop future leaders, so that they can inspire their own communities and improve the standards of living for future generations.
The ESG Foundation reflects the mentality of all ESG operations; it is driven by purpose. The movements of the ESG Foundation are spurred on by our want to do anything that we can locally in order to help out communities on a global scale. It is just another way that we are trying to make the world a better place.
The ESG Foundation seeks out projects and individuals that will benefit from being assisted in developing leaders and building their skill sets so that they are able to stimulate sustainable growth within their own communities. We aren't looking to provide a quick fix, we want to help build the structures that will assist both current and future generations.
Currently, the ESG Foundation is partnered with a number of organisations across Africa, including The Great Big Project, Kliptown Youth Program, Grassroots Uganda and The Real Uganda. The ESG Foundation organises fundraising events throughout the year with all proceeds going toward developing leaders globally.
Locally, the ESG Foundation is partnered with Project Youth, a not-for-profit community organisation that has been running in the Sutherland Shire for over 20 years. They provide opportunities for local young people that allow them to determine their own futures.
There is a passion that stirs within ESG that can be seen throughout the ESG Foundation, all of the associated partners and organisations, and everyone that is connected to the Foundation's activities and financial support efforts. It is a drive to create something better for people beyond our immediate reach. We encourage you to take a look at all of our beneficiaries and partners and the life-changing efforts behind these communities abroad.
LIKE and SHARE the ESG Foundation on Facebook!
ESG Foundation Suubi Calendar 2015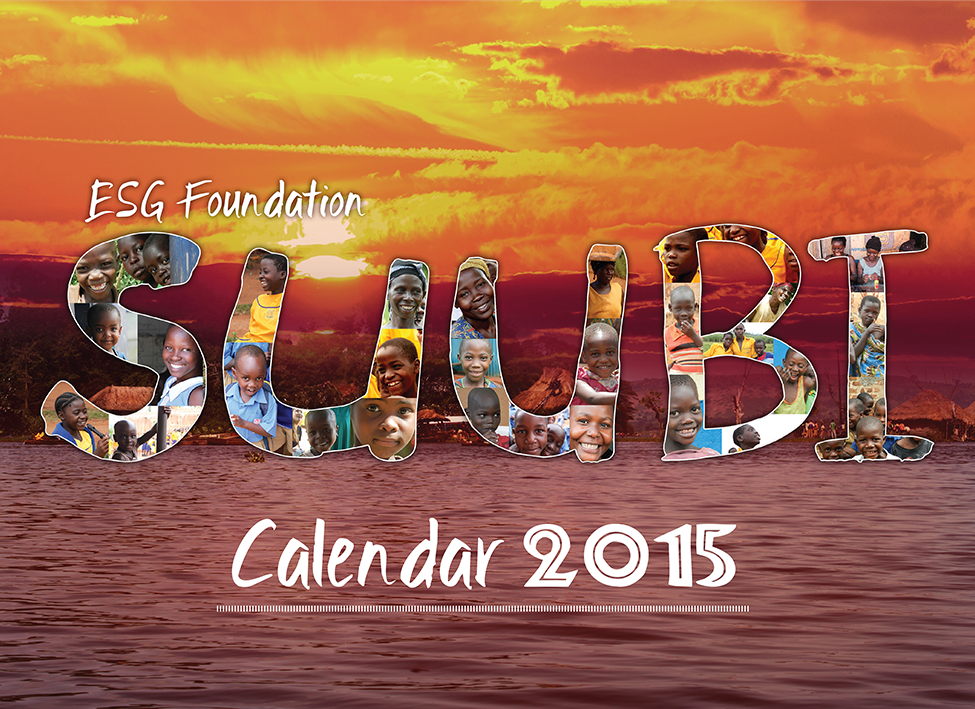 After the major success of our Suubi Calendar for 2014 (read about it below), we are very excited to announce that the 2015 Suubi Calendar is now available!
Photographed by Kirsten Brown, a young amateur photographer from Melbourne who won the chance to travel to Uganda with the ESG Foundation and shoot the Calendar in June, 2014, we think that it is absolutely gorgeous and really captures the spirit of those that we are trying to help!
This year, all proceeds raised will go to various projects in Uganda (all of which are detailed on the inside of the Suubi cover) including The Great Big Project. We are also excited to announce that a portion of the money raised will be going to our local partners, Project Youth.
For only $10 you could help to create sustainable growth across a broad range of communities. Not only that, you could have this awesome calendar gracing your wall for all of 2015! To find out how to get your hands on a copy or 2, don't hesitate to contact us here or check out our Facebook page here.
SUUBI Calendar 2014
The SUUBI Calendar 2014 raised much needed funds for our partnered organisations across Uganda and South Africa. The idea for the calendar was spawned from the mind of Foundation Director John Beach while he was on a Global Volunteer Network distribution trip to Africa. After meeting all the locals in the communities and seeing their overwhelming sense of hope and happiness despite so much adversity, he really wanted to share this joy with the people in his own network. Using photographs personally captured by John, the SUUBI Calendar was designed with the aim to raise $25,000 to help stimulate growth within these communities. With a generous amount of support from ESG Asia Pacific partners, small businesses throughout Australia and hundreds of amazing individuals, the SUUBI Calendar drive was a great success and all the proceeds have gone toward helping many people in need.